Anagram Genius for Windows free evaluation version!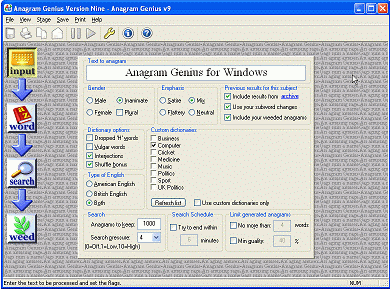 Anagram Genius is the infamous anagram-generating software that has been featured in TIME magazine and on national television. Full description.
This version is free and fully functional! It will enable you to find anagrams of your own name and the names of nine other family members, colleagues and friends with an 80000 word lexicon! Unlike most other evaluation software, there is no time limit - the software will never expire!
To use it you need a PC with Windows 95, 98, ME, 2000, XP or Windows NT (minimal hard disc space and RAM). The file is only 2.57Mb and should download very quickly! (6 minutes with a dial-up connection, possibly seconds with a faster connection!)
To proceed, fill in your email address and click on Download Anagram Genius
If you have any difficulties, questions or feedback please email agenius@genius2000.com
Full description of Anagram Genius
Order Anagram Genius
anagramgenius.com home page